School Closure Day Camps!
Early Release Days. Snow Days. Teacher Work Days. Fall, Winter & Spring Breaks.
When School is Closed, Zaniac is Open!
Step into our high-tech & fun campus where your child can become a Coder, Scientist, Engineer, Mathematician, Designer or Explorer! School Closure Day Camps are the perfect combination of learning and fun, featuring our engaging programs that nurture your K–8 grade child's love of Science, Technology, Engineering, Art & Math!
Zaniac is open most days your child is on school break, and we offer camps on early-release days and teacher work days. We're even open on most school snow days! Choose between half-day (morning or afternoon) and full-day camps. We also have week-long camps over Fall Break, Winter Break and Spring Break. Ignite your child's imagination and gain 21st century technology skills!
IC Imagine Winter Break Camps
HCPS Winter Break Camps
Enroll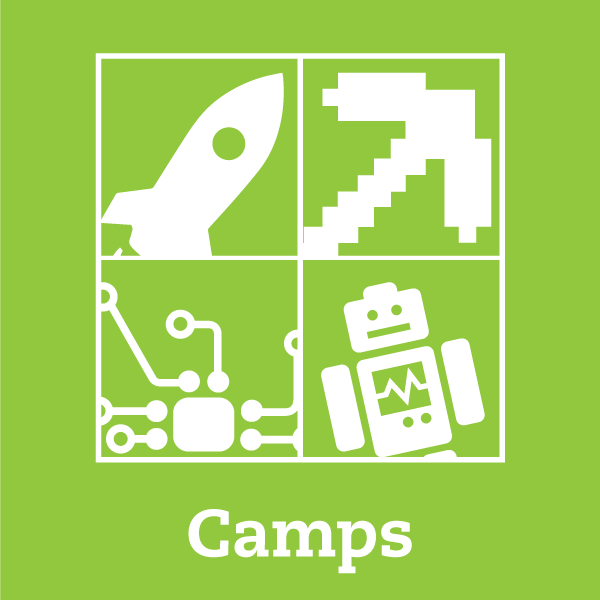 Come all week, single days or half days.
We track most Asheville and Hendersonville area schools, including:
Buncombe County Schools
Henderson County Schools
Invest Collegiate Imagine
Fernleaf Community Charter School
Carolina Day School
Asheville City Schools
Not listed here and want to be a part of Zaniac's School Closure Camps? Give us a call at 828.575.0355 or email asheville@zaniaclearning.com
School Closure Camps
Full-Day Camps - $89
Hours: 8am - 5pm

Half-Day Camps - $59
Hours: 8am - 12pm & 1pm - 5pm

Early Release Day Camps - $59
12pm - 5pm

Week-Long Break Camps
Fall, Winter & Spring Break Camps
Full-Day - $399
Hours: 8am - 5pm

Half-Day - $249
Hours: 8am - 12pm & 1pm - 5pm



Camp Descriptions


STEAM Quest Morning Camps!

Superheroes
Engineer and build your very own superhero gadget using Simple Machines and battle it out with your teammates. Design costumes (with or without capes!) with Inkscape. Make a superhero theme tune in our Music Lab. Create light-up masks with circuitry and design your superhero's very own logo as a 3D Print. Watch your child soar!
Galactic Missions
Build and program droid-style robots for space missions and compose your own soundtrack in our Music Lab for your stellar mission! Colonize far-off planets and navigate galactic cities in Minecraft and use Scratch to defeat the enemy in your uniquely created Space Wars game. Plan the most efficient route, deliver cargo, and successfully complete your designated missions in the Kerbal Space Program!
Wizardry Wonders
Enter the world of your child's favorite books in Wizardry Wonders! Make scientist glasses, 3D printed magic wands, learn about magic potions and play a game of Wizard Chess! Who needs a flashlight when you can create magic spells? End camp with a game of Robot Quidditch!
Engineering Afternoon Camps!
Robotics
Students learn the basics of robotics, the scientific method, forces, and design through exploring scientific and engineering concepts.
Circuits
Build and program robotic solutions to defined projects. In circuits, students use littleBits and Snap circuits to Learn about basic inputs, outputs, analogs, electricity, and more!
Minecraft Exploration
Learn to navigate by coordinates within your world to find the next clue and complete the Math and Science challenges or learn about gravity and velocity whilst letting your creative engineer side build an intricate rollercoaster.
Minecraft Engineering & Design
Students explore the inner workings of manufacturing and heavy industry, ranging from baseline resource gathering to advanced metal production. With the simplified tools provided by Minecraft, students set up working facilities to create products from raw materials, and set up a logistics network that can efficiently move items to where they are needed.
Join Zaniac's Membership Program—Edison Club—and SAVE!