Minecraft like you've never seen it before

In Game-Based Learning, Zaniac's instructors guide students through Minecraft challenges designed to teach math and science concepts. Learn about life sciences, biomes, physics, mechanics and more, all while playing a game you love.

Minecraft at Zaniac is much more than a game.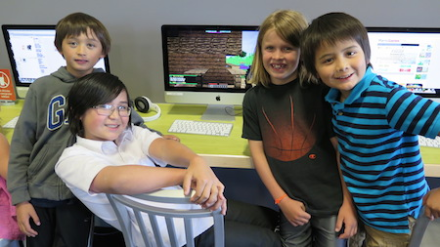 ---
All Courses Feature
Classes meet 90 minutes once a week for six weeks
Low ratio of 5 students or less per instructor
Use Zaniac's custom- configured MinecraftEdu server
Trade Crafting tips and learn new techniques
Personal progress emails after every class from your instructor
Peer-based instruction and a fun atmosphere — Learn and build with friends
GBL: Minecraft™ Exploration
In Minecraft™ Exploration, students learn Cartesian coordinates and use them to navigate while working together with friends to accomplish group missions. Explore real science and engineering concepts like biomes and gravity playing a game you love. No prior experience necessary.
GBL: Minecraft™ Physics*
Get introduced to the world of physics and explore Newton's Laws, mechanics, and thermo-dynamics. Begin working with advanced concepts like fluid physics and electromagnetics, all in the Minecraft universe.
*GBL: Minecraft Exploration is a prerequisite for this course.
GBL: Architectural Design*
In Architectural Design, students learn the basics of urban planning and building design. Explore real-world architectural landmarks through Google Maps & Street View, then take that knowledge and apply it to designing a cityscape using Minecraft™ and Tinkercad. For grades 2-8.
*GBL: Minecraft Exploration is a prerequisite for this course.
GBL: Galaxy*
In Galaxy, students learn about Earth's oceans and undersea life with the Oceancraft mod, and explore space with the Galacticraft mod. Design and build rockets that travel to the moon, International Space Station, and even Mars. The final class culminates with a team-building space rescue!
*GBL: Minecraft Exploration is a prerequisite for this course.